Article from "Atlanta Magazine"

Article by: Carly Cooper, See full article here. 

Sometimes you just need to get out of the house. So, you decide to take the family to dinner. Seems like a great idea, right? Then the food takes too long, and one child rejects their chicken fingers because they don't look like the frozen variety they're accustomed to, and the other knocks over their water glass . . . twice. Check, please!
Dining with kids can be tricky. But before you write-off family restaurant outings completely, try these kid-friendly restaurants, which feature spaces to stretch out, fresh air, and child-sized portions. We can't make your children behave, but we can at least promise you good food.
If no one can agree on dinner…
Metro Atlanta's recent food hall boom offers a solution. From Ponce City Market and Chattahoochee Food Works to Marietta Square Market and the Market Hall at Halcyon, food halls eliminate the need for compromising. Let everyone pick what they like, then reconvene to eat. Bonus: high ceilings, plenty of folks moving around, and large open spaces eliminate the need for constant shushing.
If you're trying to be a little healthier…
Farm Burger has you covered. Casual and approachable, Farm Burger can be as decadent or a guilt-free as you make it. The "Lil Farmers" menu includes your choice of fruit and veggies or fries and milk or juice. Adults will like the seasonal salads and vegan burger options.
If you're short on time…
Pielands in Virginia-Highland has slices at the ready. Not feeling pizza? Subs and salads offer more wholesome options. And if you do have a short wait, kids will stay entertained with the complementary Ms. Pac-Man video game—leaving you with many minutes of much-needed silence.
If your kiddos have a case of the wiggles…
Summerhill is the place to be. The green space right outside Wood's Chapel BBQ allows children to run wild while adults sip a cold one from a table nearby. The ample portions provide plenty for all with pulled pork and mac 'n' cheese attracting many a family. Everyone well-behaved? Reward them with soft-serve ice cream from Big Softie across the street.

If no one wants to get dressed…
NFA Burger won't judge. Located in a Dunwoody gas station, this much-lauded spot offers burgers, hot dogs, and grilled cheese via counter service. Choose from fries or tater tots with house-made Schmoops (cinnamon-sugar twists) and sweet Belgian waffles available for dessert. Get it to-go or enjoy on the picnic benches outside.
If fresh air is what you crave…
Visit the West End breweries. Just off the BeltLine's Westside Trail, Wild Heaven and Monday Night breweries offer the perfect place for adults to let off steam while kids fill up on wings and wood-fired pizza. Boxcar (adjacent to Hop City) features grilled cheese, chicken tenders, and a burger on its kid's menu, too. When the kids get bored, you can hop on the BeltLine or visit one of the nearby playgrounds.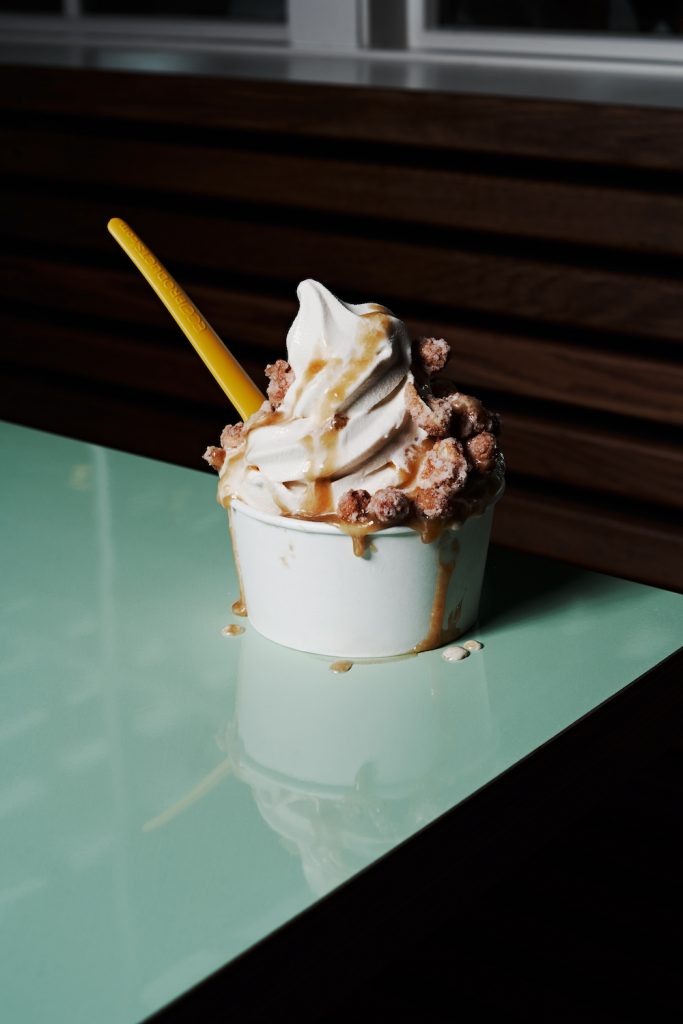 If you want a bird on a budget…
Little Rey in Piedmont Heights offers Pollo Al Carbon family packs for dining in or out. Order a whole chicken, plus chips and salsa, and rice and beans for $36. Prefer to order individually? Tacos start at $5. Don't forget about the soft serve ice cream for dessert!
If you want a nicer meal but don't have a babysitter…
Head to Mission + Market. This modern American Buckhead hotspot offers a sophisticated menu of steak, seafood, and pasta. What many people don't know is there's also a kid's menu with Neapolitan pizza, noodles, and chicken tenders, and more. Dine on the patio and let the children color with the provided crayons while waiting for their food.
If you're craving ramen…
Jinya Ramen Bar has the kid's meal of all kid's meals. It includes chicken ramen with corn, rice, crispy chicken, fries, an orange, a lollipop, and vanilla ice cream. A vegan version with edamame is available, too. Adults can choose from numerous types of ramen, as well as curry and rice bowls.
If you just need to get out of the house…
Brooklyn Café in Sandy Springs is a reliable choice. The extra-large portions at this diner-style spot give you more for your money, and the wine list is a perk after a stressful day.